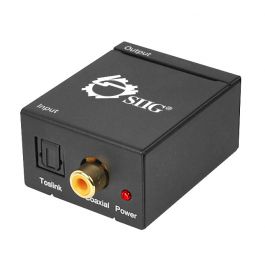 SIIG's Digital to Analog Audio Converter is designed to convert Coaxial or Toslink digital audio to analog left/right stereo output. It is easy to install and simple to operate. This converter supports audio sampling rate at 32, 44.1, 48 and 96KHz, provides electomagnetic-noise-free...

www.siig.com
Price 2900
.Contact 03422682959
Location of seller: Karachi
Dealing Method: H2H , Via Easypaisa , Bank transfer
.
•Term and Condition
FCFS basis, First Come, First Pay & First Serve Basis