MODERATOR NOTE: Please use this thread for all General Xbox LIVE related issues and queries. Kindly read through this extensive FAQ before posting questions to avoid wasting your time and ours.​
If you feel that we've missed out on some important information that should be added in the FAQ, please contact any Xbox 360 Supervisor or Moderator via Private message or Visitor message. Posting about this in the thread will result in that post getting deleted immediately.
​
Xbox
Live is online multiplayer gaming and content delivery service which supports voice chat via headset and soon, video chat through the Live Vision Camera.
There are 2 Xbox Live subscription types:
Xbox Live Silver
- Available for free to all
Xbox
360
owner
- Create a Gamertag
- Create your Avatar
- Access to
Xbox
Live Marketplace
- Insider Movies/Interviews/Previews
- Send and Receive Text / Voice Message
- Private chat with one friend at a time
- Play game online for free on special weekend
Xbox Live Gold
- All the Silver level benefit
- Play Online Multiplayer Game
- You can download some content earlier than Silver members
- Enhanced gamer feedback
- Enhanced friend list management
- Create and join Parties/Video Chat
You'll get Silver membership for free; and you get
Xbox
Live Gold 1-month trial with your
Xbox
360
.
How much does Xbox Live Gold membership going to cost?
1-Month Gold Membership
– USD 7.99
3-Months Gold Membership
– USD 19.99
12-Months Gold Membership
– USD 49.99
You can pay for the membership fees with either credit card or by purchasing
Xbox
Live Subscription pack (prepaid). With the 12 months membership, you'll get 1-month membership free, for a total of 13 months.
Pakgamers.com is selling Xbox LIVE subscription cards and Microsoft points at incredibly low prices. Click here to visit our online store and get the best deals!
Gamertag
Gamertag is the universal gamers' username on
Xbox
Live. Your friend can locate and message you from Live.
Reputation
A rating provided by the
Xbox
Live community to a
Xbox
Live member to indicate how he/she is perceived by other
Xbox
Live members.
Gamerzone
Gamerzone is an indication of an
Xbox
Live member style of social gaming. The Choices are:
R&R - For those who just want to hang out and play
Pro - For competitive gamer who must win at all cost
Underground - For gamer who takes an alternate approach to gaming
Family - For gamer who wants to play in a friendly family-like enviroment.
Gamercard
Gamercard summarizes a user profile on
Xbox
Live. It contains the following information:
- Gamertag
- Gamerscore
- Reputation
- Gamer Zone
- Location
- Motto
This is an example of a Gamercard:
Gamerscore
Each time you complete certain Achievement on your
Xbox
360
games, you'll be awarded with some points that are called Gamerscore. On average, an
Xbox
360
games will award you around 1000 Gamerscore; while
Xbox
Live Arcade game offers around 200 Gamerscore each.
Xbox Live Marketplace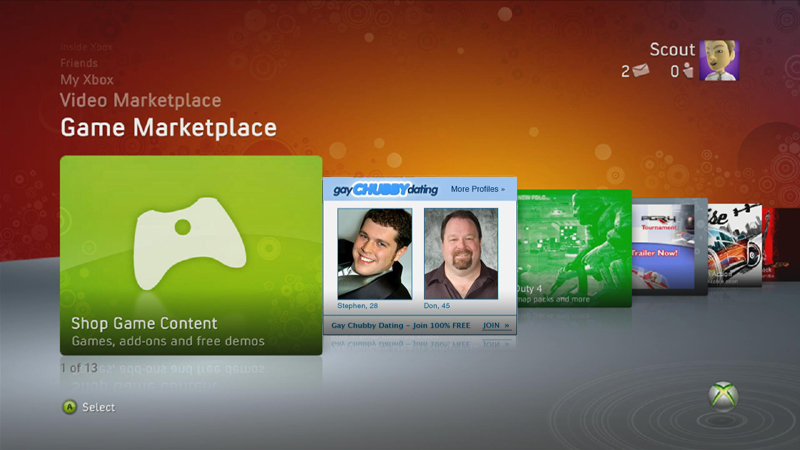 Xbox
Live Marketplace is a place where you can download or purchase content. You can download game and movie trailers, game demos,
Xbox
Live Arcade games, Gamertag pictures, and
Xbox
360
Dashboard's theme.
In the Live Marketplace, the currency used is called Microsoft Points (MS Points). MS Points can be obtained either using Credit Card or MS Points reload card. 1600 MS Points can be purchased at USD 20.
Xbox Live Arcade
Xbox
Live Arcade is where you can download and purchase Live Arcade games. Xbox LIVE Arcade games can be downloaded through the "Game Marketplace" Menu. Gamers can download trial version of the games and later purchase it if they like. Each game are priced between 400 – 1200 MS Points (USD 5 – 15). Full version of
Xbox
Live Arcade games allows gamers to unlock Achievement, Gamerscore, Leaderboards, and bonus content. To download games from
Xbox
Live Arcade, you must have a Memory Unit or Hard Drive.
Backward Compatibility
With Backward Compatibility, you can play your original
Xbox
games on your
Xbox
360
. Every game will be upscaled to 720p / 1080i and Anti-Aliasing will be applied. This will make the video quality sharper and clearer than the original
Xbox
. But there are some things that you have to consider first:
1. You need a hard-drive. This is not a problem for those who purchased Premium Package, but for those who stuck with an Arcade system, you need to fork out some money to get the Hard-Drive.
2. Not every
Xbox
game is Backward Compatible. If you're interested to play original
Xbox
game on your
Xbox
360
, you're advised to check their compatibility list first.
3. You can't import your save data from your
Xbox
. There's no official way to transfer save games from your original
Xbox
to
Xbox
360
. So you have to play the games again.
Setting up Xbox LIVE
(By Usman)
​
This is the basic guide to setup an Xbox Live account and get online.
Things You need.
An Xbox 360.
A Connection to Internet.(Dial-Up, Broadband, Cable Net*)
Ethernet Cable (Provided with Xbox 360)
A LAN Card, Router or Cable Modem(depending on which type of connection you have)
Network Settings
I am going to explain 2 options here which you can use to connect to Live.
Scenario A - Using a Router or Cable Modem
Connect your Xbox360 with router using the Ethernet cable
Go to System Blade and Open Network Settings > Edit Settings
Here you have to enter your IP Address, Gateway and DNS (provided to you by your ISP)
Once you've entered all the info the Console will Test the connection.
You should be able to connect without any problems if you have provided all of the info correctly.
Scenario B - Using a LAN Card with Windows Internet Connection Sharing – (ICS)
P.C. Setting
Make sure you can connect to Internet on your P.C.
Connect your Xbox360 with your PC using the Ethernet Cable(You can use the cable provided with the console for this. It works for both type of connections)
Now on your P.C. right click the connection which you use to connect to the Internet.
Go to the Advanced Tab and Check "Allow other network users to connect through this computer's Internet connection"
Click OK
Connect to the Internet using this connection on your P.C.
Xbox 360 Settings
Go to System Blade and Open Network Settings > Edit Settings
Change the Settings here to Automatic (Both IP and DNS)
Test the Connection.
*Theoretically you can use the same technique for our Desi Cable Net. But the ICS tries to setup your IP to 192.168.0.1 which generally is the IP of Server on most the Networks. If your Cable Wala uses a different IP scheme then you might be able to use this method with 2 LAN Cards attached to your P.C. (1 connected with Xbox360 and the Other to your Network.
Setting up Xbox Live profile
Here I'll explain how you can create an Xbox Live profile and redeem the 1 month free Gold Service.
Sign out any Offline Profile you currently have on Xbox360.
Go to Xbox Live blade on on Xbox 360 and Select Join Xbox Live.
Select Join Xbox Live again.
Select Continue
The Console will prompt you to enter an GamerTag. Enter anything you want but it has to be unique.
If your GamerTag is available the System will ask you for a Windows Live ID. Slect No, Create One on this screen.
Select the Country from Next List. (Pakistan is not listed so just select USA)
Select Language and Enter your Date of Birth
Enter your email Address next. You can use any email you want here. It DOES NOT have to be hotmail or msn. You can use gmail, yahoo anything you want. I prefer to use a Non-Hotmail account. You might have some problems if you use your homtail or msn email.
Next Enter your password. Confirm it. Then Select you Secret Question and Answer.
Next Enter your Name, and Phone Number. (The number has to be a US Phone number which is usually like this (8456338686)
If all goes well you'll see a notification that Your Windows Live ID has been created. Select OK
On the Next screen select Xbox Live Silver Membership
Select Keep Sliver.
You'll see a notification that you are eligible for the 1 month of free Xbox Love Gold – hurrraaayyy
Click Continue.
Enter Address, City, State and Zip (these has to be valid US city, Zip)
e.g. Address: 145 Park Ave. Main Bulvd. City: Libertyville State: Illinois Zip: 60048
Select your gamer Picture on Next screen
Select Zone
Select Yes on Next screen
Select No on Next screen
The console will then create your Account. (Depending on your connection this might take a wile)
Click Done on the Next screen.
You'll be brought back to the Xbox 360's dashboard. With your New ID signed in.
Now its time to play some games online. Pop In a disc and Navigate to the Game's Online Menu. All of that from there is pretty simple.
Happy Playing and don't forget to share your gamer card with us here >>>
PG Xbox LIVE Players
PS: The tutorial above was written before the release of the new Xbox 360 user interface. Some steps in the process may vary.
F.A.Q.​
Q. 1)
What type of internet connection is required for Xbox Live. ?
Here is the deal, you can connect, create profile, browse through content, download free stuff, send messages even on a Dial-Up. But to play games online you must have a broadband connection. A 512 Kilo-bits/seccond connection is the minimum you should have if you want to play online. If you're a hardcore First-person-shooter games' fan then its probably better that you have a 1 Mega-bit/second connection at least .
Local ISP's which perform good on Xbox LIVE right now are PTCL, MaxCom and Worldcall.
Q. 2) When I try to log into (or play a game on) Xbox LIVE, my console prompts me to update, is it safe to update?
Yes, You MUST perform the update in order to play online. Your console won't be affected in anyway, the ability to play pirated copies of games will remain. And it is safe to update.(So far)
If you decline the update, you'll be logged out of Xbox LIVE and will be again prompted for the update when you try to log-in again.
Q. 3) There is usually lag of about a half or 1 whole second while playing online on Xbox LIVE...Whats up with that?
Xbox LIVE uses peer-to-peer hosting technique, and since most of the time the host you get is usually from U.S.A and/or other country far away thats why you get low pings and latencies. There are no Xbox LIVE servers in Pakistan either to boast our signal because Xbox 360 and Xbox LIVE aren't officially launched in Pakistan.
PS: From my personal experience, you'll get alot better latency if your host is from Europe or the Arab Emirates.
Q. 4) You said Xbox LIVE uses peer-to-peer host...If i want to play with people in Pakistan, i should get good pings, Yes?
Definitely. If you play with people within Pakistan you will experience almost no-lag whatsoever.
Q. 5) What is this NXE i hear about?
The NXE is short for the "New Xbox Experience". It is a mandatory system update which Microsoft launched for the Xbox 360 in fall 2008. It is basically a complete over-haul of the user interface. Its easy to navigate and has some exciting new options like installing enitre games to the Xbox 360 Hard Drive, creating your avatar that represents your personality e.t.c
Q. 6) From where can i download NXE?
If you do not have the New Xbox Experience interface in your console then don't worry as it can be downloaded directly from Xbox LIVE. Once you connect your console to Xbox LIVE you'll be immediately prompted to download a System update, select "Yes" and let it download. The download size is a bit large so it make take some time.
Q .7) For some reason, i am unable to connect my console to Xbox LIVE. Is their any other way?
Yes, the update is available on the official xbox site (xbox.com). You can download the update from there and copy it in a USB Flash memory. Connect the flash memory into your Xbox 360's USB port and turn your console on. Once on, your console will automatically detect the update and prompt you to install it, Select "Yes" and the NXE will be installed on your console.
Q .8) I am such a noob that i can't do the above step either, there has got to be another way!
Fortunately there is, just go buy any Xbox 360 game which has been released later than March 2009. These games come packed with the NXE update, so if your console does not have NXE installed the game will do it for you. Insert the game disc into your console and boot up the game. Once the game is booted up it will detect if you don't have the NXE and prompt you to install it, select "Yes" and the NXE will be installed on your console from the game disc.
*New questions will be added as we get them*
​
Last edited: