Screww you guys, im going home
Jan 20, 2007
7,854
1
43
35
​
-----

THE YEAR OF XBOX 360

-----
With so many kick ass games releasing over the next few months its hard to keep track of what is coming out and when, ENTER THREAD. Read on for the complete list of what you should be playing this year! damn you microsoft! you werent supposed to have games this year
​
I'll start off by copy-pasting the list of upcoming games from :
http://www.pakgamers.com/boty/2007/360_2008.php
We're still reeling from a stellar 2007 but the barrage of amazing games refuses to die out. Piles of shame have never been so large. You don't get a chance to dig through it either, the juggernaut marches on in 2008. We put forward before you the games you should look out for in the new year! The lists are divided into, AWESOME & GREAT games. Lets not waste time and space on mine runs.
[AWESOME]
Tom Clancy's Splinter Cell: Conviction
The adventures of Sam Fisher continue in the fifth entry of the stealth-based series. In this game, all of the rules have changed, as the storyline takes a dramatic turn that will reinvent the Splinter Cell franchise forever. Fisher can no longer rely on his trusted bag of tools and iconic goggles. He's gone beyond being a double agent. Now he's a fully fledged fugitive without the intel of 3rd Echelon or the support of his friends. This time around, Fisher is going to need more than just a dark corner to survive...
Experience original game play based on improvisation where your environment becomes your weapon. You need to react to changing situations and use the environment and the crowds around you to create diversions and deter your enemies.

[GREAT]
Left 4 Dead


Setting out to do for co-op gaming what Counter-Strike did for team combat, Left 4 Dead is an ambitious, independently-produced survival horror game from Turtle Rock Studios, the co-developers of Counter-Strike Source. Running on the Source engine, Left 4 Dead leaves four armed survivors of a world overrun with zombies, and they must fight their way out to escape the outbreak.
Designed for co-op play, the four players must work together to finish each stage of the game, lending each other artillery support, sharing ammo and rescuing each other when zombies are on top of them. In addition to the standard four players as humans, another four players can be amongst the masses of assaulting zombies, seeking to take down the other players. Zombie players might even find themselves become one of the four mutant "boss" zombies, who have unique powers that can be used to devastate, injure, tie up, mark and track, confuse, or even humiliate the gun-toting human survivors.

[GREAT]
Universe at War: Earth Assault
Universe at War: Earth Assault is set in the near-future when multiple factions from across the galaxy have come to Earth to wage epic warfare. Deadly sci-fi weapons and alien powers allow players to destroy cities and other territory while fighting for Earth. The game also allows players to retrain and customize units in the midst of battle, modify their weapons and defenses in real-time, and even control the development of technology that will help them to victory.

[GREAT]
World in Conflict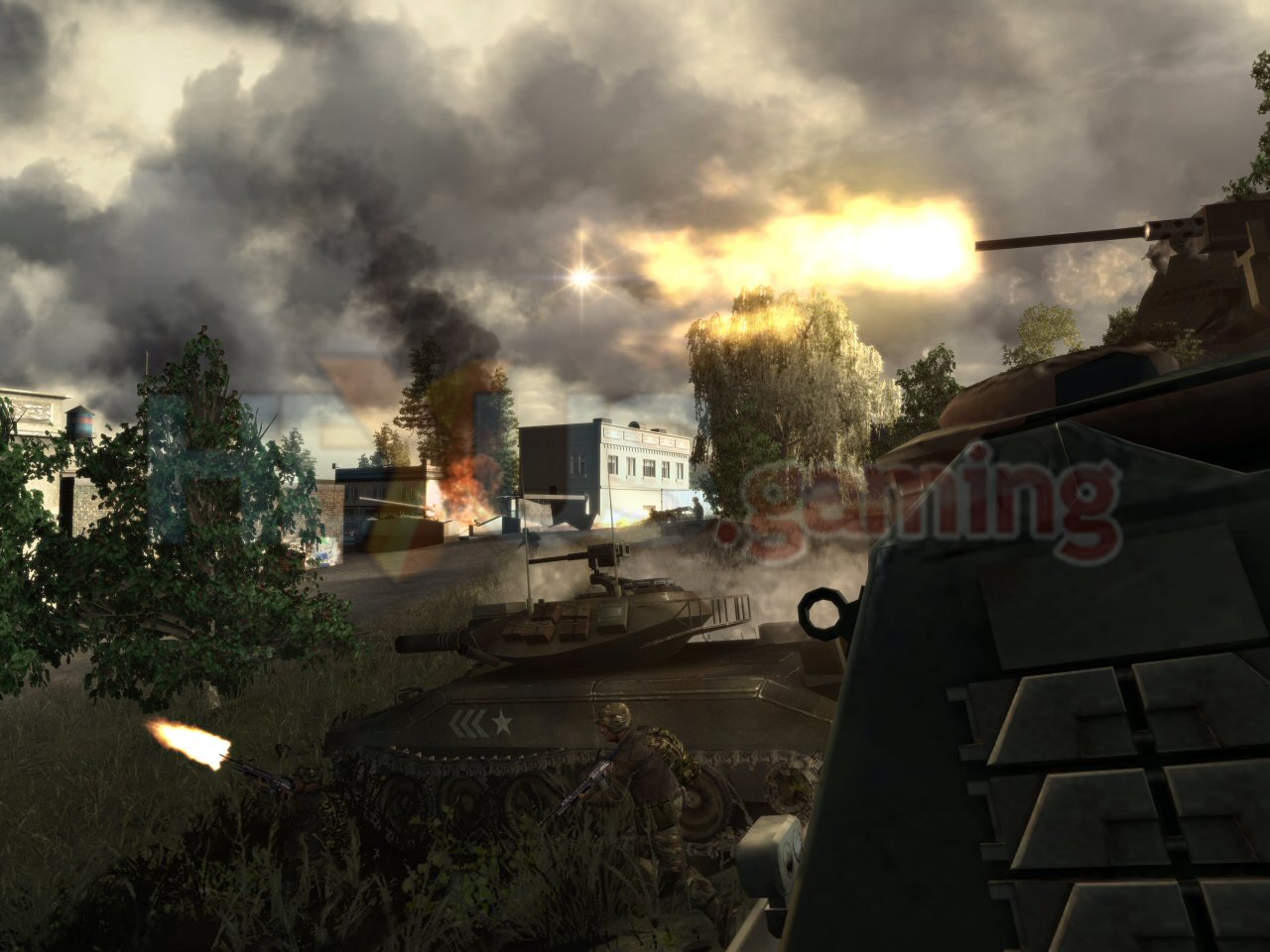 World in Conflict presents a chillingly authentic Cold War scenario where the Berlin Wall never fell. Created by Cold War authority and best-selling author Larry Bond, the story begins in 1989 as the Soviets, fearing certain collapse, boldly advance into Europe. NATO responds in force only to be met on a second front -- a full-fledged invasion of the American homeland.
Players take on the role of field commander, leading the era's most powerful military machines in the campaign to retake America's cities and suburbs. The RTS gameplay features completely destructible 3D battlefields, aggressive team-based multiplayer action and a focus on fast, hard-hitting battles. For the Xbox 360 version, the game has been customized for the controller and implements a new heads-up-display (HUD) that is more functional for console gamers.

[GREAT]
Elveon
In Elveon, the elven Neamas inhabit a realm of Naon, a place that had once been destined to be paradise before the gods mysteriously abandoned it. Confict arises, however, as the descendants of the gods begin to threaten peace in the land, as envy, malevolence and relentless lead to all-out war. As the mightiest warrior of Naon, you must fulfil the prophecy and liberate the city of Nimathar.

[OMGKFCBBQ
AWESOME]
Ninja Gaiden 2
The sequel to the blockbuster action game by Tecmo's heralded Team Ninja. Running on an entirely new gameplay engine, Ninja Gaiden 2 evolves the action in the sequel with an auto-generation health system, new enemies and locales, and thrilling combat built upon an extensive assortment of ninja weaponry.
Sell your pet, children, parents and home if you have to, you must not miss this.

[GREAT]
Too Human
As the Cybernetic God Baldur, players are thrust into the midst of an ongoing battle that threatens the existence of mankind. An ancient machine presence has forced the God's hand. In the first of a three part trilogy, Baldur is charged with defending mankind from an onslaught of monstrous war machines bent on eradication of human life. Players are treated to a nonstop barrage of action powered by the seamless integration of melee and ranged firearms combat. Battles unfold in awesome scale as players engage in spectacular battles with vast numbers of enemies.
Too Human's history is one that dates to the earliest days of developer Silicon Knights. This epic title has been a dream project for the developer for years, with development on it attempted for the original PlayStation and GameCube systems before finally ending up on the powerful Xbox 360 system.

[AWESOME]
Fable 2
Set 500 years after the original game, Fable 2 offers even more choices and features, while building on the core gameplay theme of Fable where every choice continually defines who you become, allowing you to truly live the life you choose.
Sequel to one of the best games I have ever played, think Mass Effect in the middle ages. Back will all the shenanigans and a revolutionary one button + both sticks combat system. Lets not forget the PET DOG that is always by your side and the ability to raise kids to become heroes and continue your legacy! I cannot wait for Fable 2.

[NOVELTY]
Lost Odyssey
Here's your obligatory JRPG of the list. I dunno what it is *steals info from netz*
The second of two epic RPG projects for Microsoft by Mistwalker, the studio founded by Square-Enix's Hironobu Sakaguchi. You play as Kaim, a man who's been sentenced to live for 1,000 years. The game's storyline takes you through Kaim's life as he lives through multiple generations, becomes a part of many families, falls in and out of love and gets into conflicts. All this is set in a world that is on the verge of a "mystical industrial revolution," where mankind has attained dark powers.
It was a trap, the game sucks.

[AWESOME]
Alan Wake
Fill the shoes of one Alan Wake, a man who makes his living from the terror of others as a best-selling suspense novelist. Trapped in the deceptively peaceful Washington town of Bright Falls, where he came to escape the trauma of losing his fiancée, Alan must piece together a mystery to prevent himself from being trapped inside a nightmarish world forever.
An intense psychological thriller from Remedy, the creators of Max Payne, Alan Wake looks to raise the bar for future games, creating a true cinematic experience. Explore an expansive world filled with missions, unique puzzles, intense combat, and horrifying enemies. Dig into a twisting and multi-layered story filled with suspense, engaging characters, and shocking revelations.

[GREAT]
Halo Wars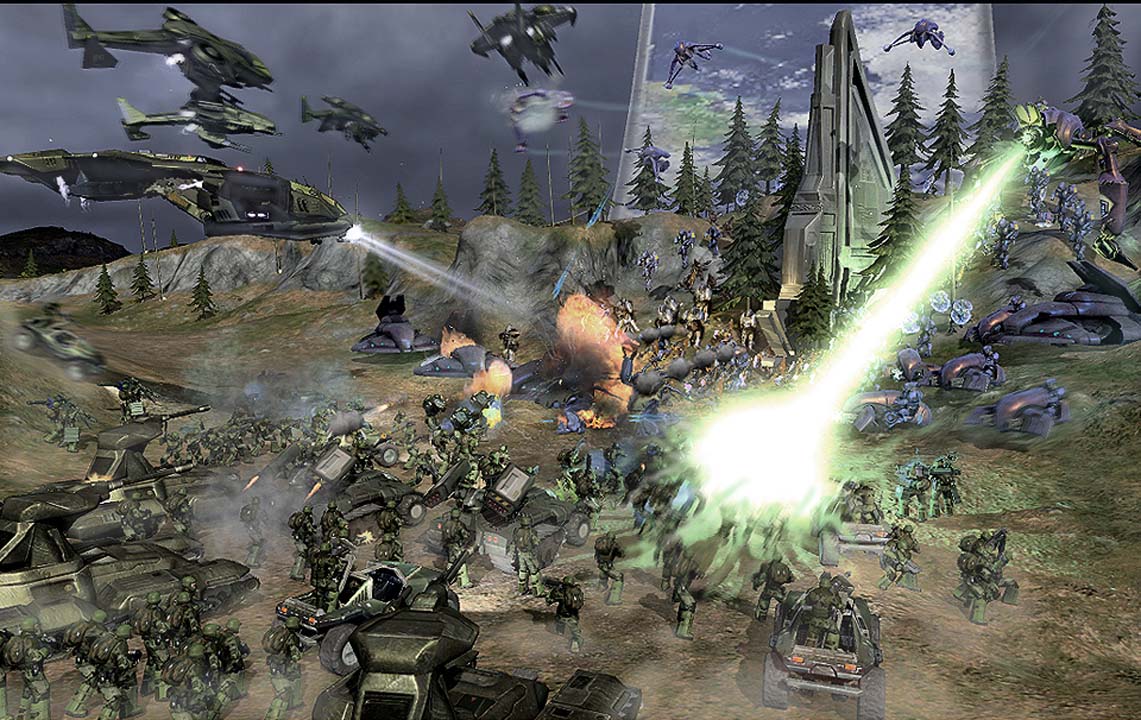 Its Halo at war! Your favourite game jumps into a whole new genre, developed by the award winning Ensemble Studios (make of the Age games) with oversight from our dark lord Bungie themselves! Promising to be as frantic, fun and deep as its big daddy, Halo Wars is one title that has the opportunity to change the fate of the RTS genre forever!

[ssshhh..]
??????????



You know its coming and the listing at both Amazon US and UK amongst other retailers points to the obvious. I wanna jump so high that i cut off my head with the ceiling fan. I'm willing to kill a 1000 people and start a whole blood irrigation system just to get a copy. I'm more hyped than Inferno is for his next picnic, Gears2 in november, can you wait that long?
RIGHT ON THE MONEY BABY! i should get into astrology

[ssshhh..]
??????????
Peter Jackson's Halo games has guarded very well. So well that we don't know a thing about it! Except it will "redefine cinematic gaming". Indigo Prophecy? King Kong? One thing is for sure, PJ + Bungie = something really awesome.

still waiting ... maybe E3

NEW ENTRANTS
Return of Marcus Fenix
Attendees of the MGS San Francisco showcase event can witness the first extended taste of
Gears of War® 2
, the sequel to the blockbuster third-person tactical action game that sold nearly five million units. Epic Games Design Director Cliff Bleszinski will demonstrate dramatic new gameplay elements and stunning visual effects in a campaign sequence from early in the game—where Marcus Fenix and COG forces engage in pulse-pounding firefights between two Derrick transports, fend off vicious Reaver fly-by attacks and rabid Brumaks—all in the same rollercoaster ride of a level.
As the most anticipated Xbox 360 exclusive title of the 2008 holiday season,
Gears of War 2
offers an unforgettable gameplay experience that blends a gripping story with visceral combat on a grand scale.
More Gears of War 2 Game Details.